Come build something special with us
Dead-end job?
Are you just a number?
Feeling unappreciated?
Come grow with us!
Find your career bliss at Paddy O' Furniture where we value your input, believe in work/life balance, appreciate and recognize your contribution and reward you for your success all in a casual atmosphere.
Steps to launch your new career:
Submit your applicationShare your experience, skills, and talents during your interview.
Make your mark at Paddy O' Furniture!
View Job Openings
HERE AT PADDY O' FURNITURE WE ARE GUIDED BY OUR C.R.E.A.T.I.V.E. CORE VALUES.
Compassion

Everyone caring about everything and everyone.

Results

We recognize data must initiate our actions and the sum of those actions will equal our results. D+A=R.

EXCEEDING EXPECTATIONS

We believe in under promising and over delivering.

ACCOUNTABILITY

We believe in identifying and accepting challenges, being resourceful, and being part of the solution.

TEAMWORK

We believe in rowing the boat. The power of people coming together towards one vision selflessly not caring who gets the credit.

INSPIRATION

We believe in practicing what we preach.

VISION

We believe the best way to predict the future is to create it.

EVOLVING

We embrace change by moving forward, onward and upward.
Get the training, advancement opportunities and team atmosphere you need to succeed.
BLISSFUL BENEFITS
Benefits Programs vary based on position, length of service and full-time vs. part-time employment. Paddy O' Furniture offers Uncapped Earnings, Bonus Opportunities and Employee Discounts. Other benefits include:

• Flexible Scheduling
• Medical, Dental, Vision & Life
• Insurance
• Matching 401K Retirement
• Training & Advancement
• Opportunities
• Paid Time Off & Paid Holidays
• Team Building Parties & Events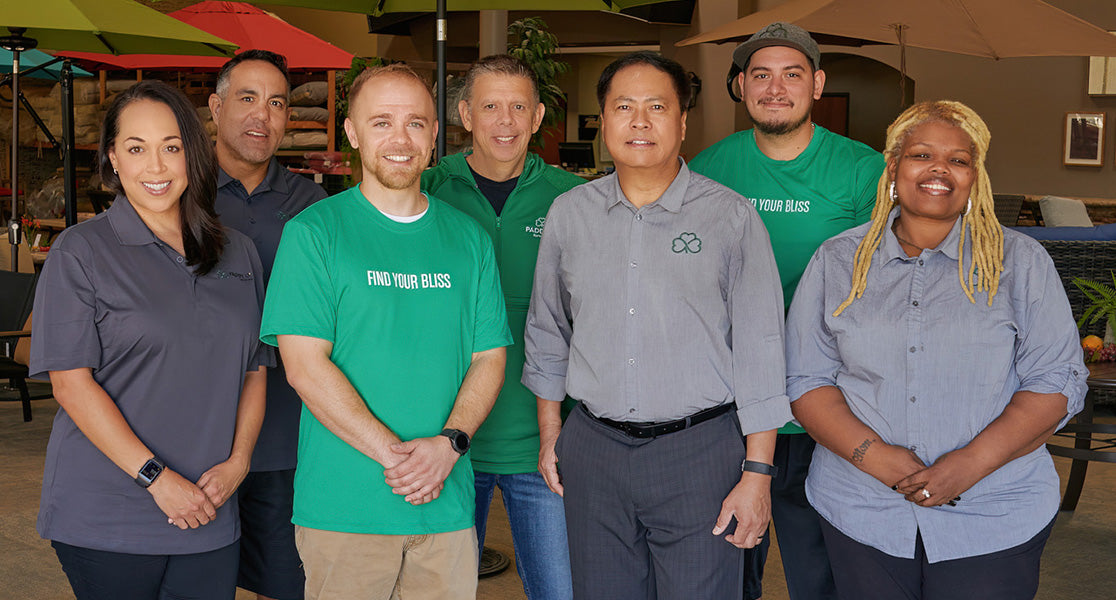 CURRENT OPEN JOB POSITIONS AT PADDY O' FURNITURE
At Paddy O' Furniture we are always looking for enthusiastic, self-motivated and flexible individuals who share our passion for guiding people to their patio bliss. To be considered for a place on our team, please send a resume along with information as to your position(s) of interest as well as the location(s) you would be willing to work to careers@paddyo.com. Thank you for your interest in Paddy O' Furniture.
View Job Openings